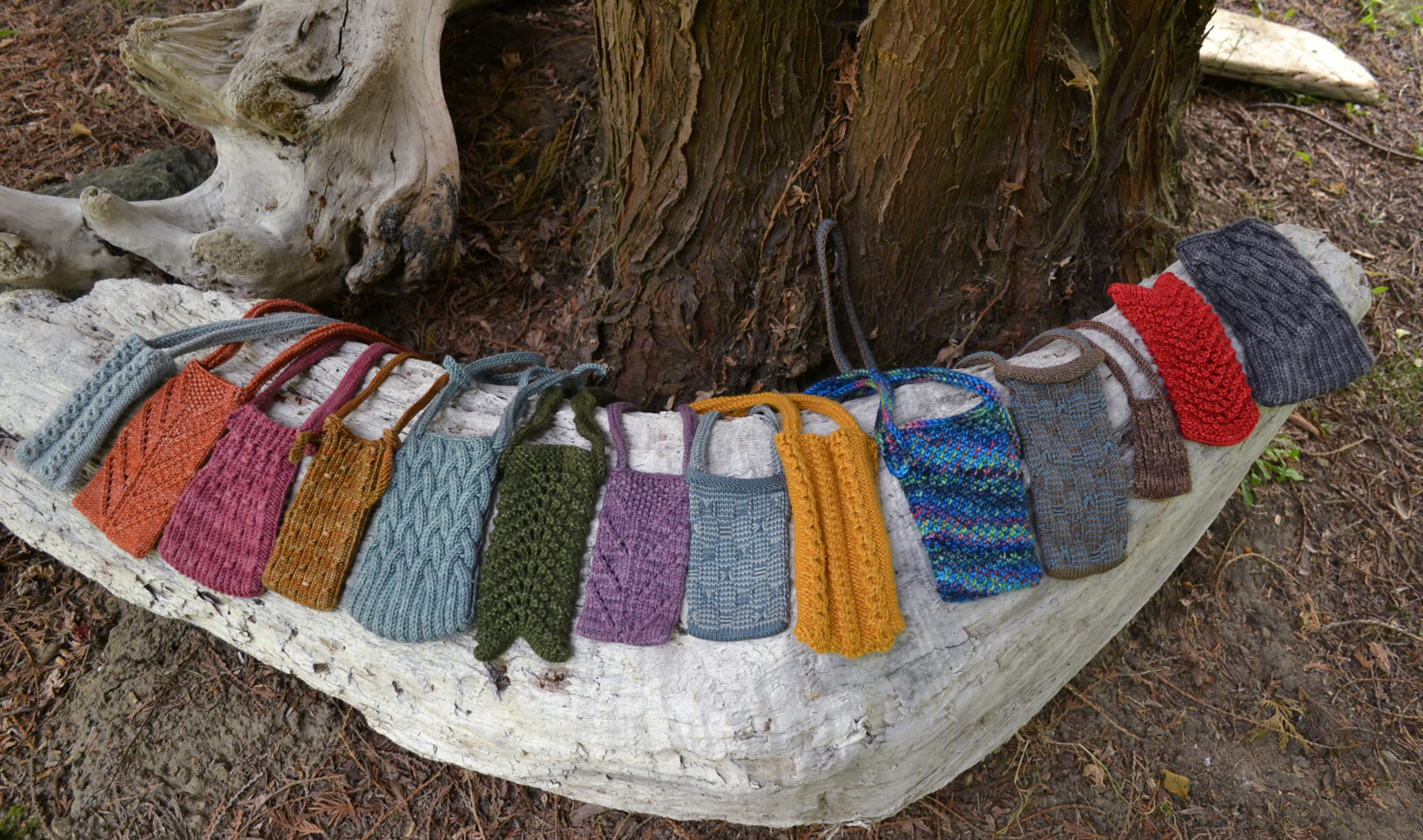 Sometimes things just happen, as if by a miracle. I was looking through some of Cat's photos and I happened upon one that showed a collection of these adorable little knit pouches for smartphones. They were so cute and as a novice knitter, I thought to myself, "I bet even
I
could make one of these!" I headed over to
Cat's Facebook group
and started talking to the community there. Someone mentioned the pouches and the conversation kept going. It turns out that Cat had created an eBook of 14 patterns and 10 straps that she gave out at her retreats. I texted Jenny and she found the original file AND photos. We were literally jumping up and down and screaming with glee!
A little-known fact about Cat, she was a space saver and made all of her photos into the tiniest size possible. We have the hardest time finding photos large enough to share on social media, in the press, or for other projects in the works.
So…JOY!
We bring to you Cat Bordhi's Collection of Portable Pockets and Small Gifts—which are TRULY gifts. What are you going to place in your pouch?
Lots of love and let's cast on,
Val

---
From Cat:
I never lose my phone because I wear it in a pouch across my chest.
The small and practical projects that invite you to delight in making something truly beautiful. These small projects can become a relatively quick and inexpensive gift for almost anyone. If you're a sock knitter, you'll be happy to realize that just about any sock leg design can become a pouch.
Easily resized, these portable pockets can carry eyeglasses, keys, or even become small purses (sew a zipper at the top if you like).
At the end, you'll find instructions for adding an optional fabric lining. This does not require a sewing machine or any previous sewing skills and if you have never sewn before, you may find it a bit of a thrill to realize you can.
---
This collection of patterns was found after Cat's time on Earth. If you need help with these patterns, there is a wonderful community of her knitters on Facebook at Cat Bordhi's Cradle for Knitters, Weavers, and Spinners. We also have a lovely group that meets weekly for Silent Knitting and chats after. If you are interested in joining this lovely group, click here to get the updates. Any other questions can be sent to Val.